Categories to Include on Your Supermarket Website
Introduction
A well-organized and user-friendly website is critical for the success of any business, especially supermarkets, in the digital age. One of the most important aspects of a grocery website is product navigation and categorisation. A clear and straightforward categorisation makes it easier for customers to identify what they need and improves their overall buying experience. In this post, we will look at the most important categories to have on your grocery website in order to improve consumer happiness and increase sales. Find categories to include on supermaket website in this article.
1. Fresh Produce
Fruits
Fresh fruits such as apples, bananas, oranges, berries, and others should be included in the "Fruits" category. If applicable, organise them further by subgroups such as tropical fruits, citrous fruits, or seasonal fruits.
Vegetables
Fresh vegetables such as lettuce, tomatoes, carrots, broccoli, and others are included in the "Vegetables" category. Subcategories for leafy greens, root vegetables, and exotic veggies can be formed.
2. Meat and Seafood
Meat
Include several varieties of meat under the "Meat" category, such as beef, pork, chicken, and lamb. To make it easier for clients to browse, divide them into subcategories such as steaks, ground beef, or roasts.
Seafood
Feature a variety of fresh fish, shrimp, lobster, and other seafood alternatives under the "Seafood" category. Fish fillets, shellfish, and smoked seafood are examples of subcategories.
3. Dairy and Eggs
Milk and Dairy
Milk, cheese, yoghurt, butter, and other dairy items are available under the "Milk and Dairy" category. Subcategories can be developed based on the type of milk (whole, skim, lactose-free), cheese variants, or yoghurt flavours.
Eggs
Include an egg category where buyers can locate different sizes and types of eggs, such as organic, free-range, or speciality eggs. You can also add nutrition and culinary recommendations for eggs.
4. Bakery and Bread
Bakery Items
Fresh bread, pastries, cakes, cookies, and other baked items should be included in the "Bakery Items" category. Subcategories for specialised foods such as bagels, croissants, or gluten-free choices can be developed.
Bread
Offer a variety of bread kinds under the "Bread" category, such as whole wheat, multigrain, sourdough, or speciality breads. Customers should be able to quickly locate the precise type they require.
5. Pantry Staples
Canned Goods
Include a section for canned items such as soups, vegetables, fruits, and legumes. Subcategories for certain types of canned items, such as canned tomatoes or tinned fish, can be formed.
Dry Goods
Products in the "Dry Goods" category include pasta, rice, grains, cereals, and baking ingredients. Consider subcategories for different types of pasta, rice, and gluten-free alternatives.
6. Beverages
Non-Alcoholic Beverages
Non-alcoholic beverages such as water, soda, juices, energy drinks, and tea are all acceptable. Flavours, brands, and pricing can all be used to create subcategories.
Coffee and Tea
Create a subsection for coffee and tea within the "Beverages" category. Include coffee beans, ground coffee, tea bags, loose-leaf tea, and other associated accessories. Within this section, customers can browse various flavours, blends, and brands.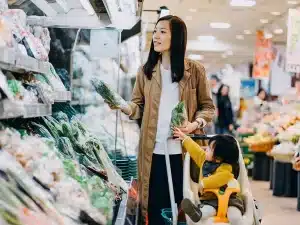 Alcoholic Beverages
It is critical for supermarkets that sell alcoholic beverages to have a dedicated department for these items. Beer, wine, spirits, and other alcoholic beverages are all included. Sort them further into subcategories like red wine, white wine, craft beer, and whisky.
7. Snacks and Confectionery
Snacks
Make a snack category that includes chips, crackers, pretzels, popcorn, and other savoury options. You can further organise snacks within this category based on flavours, dietary needs (gluten-free, vegan), or specific brands. categories to include on supermaket website.
Confectionery
Confectionery items such as chocolates, candies, gummies, and other sweet snacks should have their own category. Customers can go through subcategories such as chocolate bars, gummy candy, and sugar-free alternatives.
8. Frozen Foods
Frozen Meals
Included in the "Frozen Foods" category are ready-to-eat frozen meals such as pizzas, lasagnes, and microwaveable entrees. Customers can also find dietary options such as vegetarian and gluten-free meals.
Frozen Vegetables and Fruits
Make a frozen veggies and fruits section with options such as frozen peas, maize, berries, and tropical fruits. Customers looking for convenience or out-of-season goods will have no trouble finding what they need.
9. Household and Cleaning
Cleaning Supplies
Include a cleaning supplies category with things like detergents, dish soaps, cleaning sprays, and paper towels. Subcategories for specialised cleaning needs, such as kitchen cleaners or bathroom cleaners, can be developed.
Household Essentials
Under the "Household Essentials" category, you can find items such as toilet paper, Kleenex, garbage bags, and other basics. Customers can easily find these necessary products on your website.
10. Health and Personal Care
Personal Care
Make a category for personal care products, such as shampoo, conditioner, soap, skincare products, and cosmetics. Specific product kinds or brands can have their own subcategories.
Healthcare
Include a section for healthcare products including vitamins, supplements, over-the-counter drugs, and first-aid supplies. Customers may simply locate the goods they require to maintain their health and well-being. https://diversewebsitedesign.com.au/
Conclusion
Organising your grocery website with well-defined categories is critical for providing your customers with a seamless shopping experience. The above-mentioned categories include a wide range of products usually found in supermarkets, allowing customers to simply navigate and identify the things they require. You may improve consumer satisfaction, streamline their shopping experience, and ultimately increase sales on your grocery website by incorporating these categories with relevant subcategories. https://livein.solutions/