Why Interior Designers Should Have a Website
The Importance of a Strong Online Presence
Having an online presence is critical for firms in all industries, including interior design, in today's digital world. As the internet continues to influence consumer behavior, interior designers must build and maintain a professional website. A well-designed website may be an effective tool for showcasing their work, connecting with potential clients, and developing a renowned brand. Let's look at why interior designers need a website to succeed in today's industry. See here for interior design website design.
1. Showcasing the Portfolio
Highlighting Expertise and Creativity
The ability to present their portfolio is one of the key reasons why interior designers should have a website. A website serves as a digital canvas for designers to showcase their previous work, demonstrating their distinct style, originality, and experience. Potential clients can get a sense of the designer's capabilities and vision by viewing high-quality photographs and descriptions of each project.
Visual Appeal and First Impressions
First impressions are extremely important, especially in the interior design profession. When potential clients visit an interior designer's website, they want to see visually appealing images that pique their interest. A well-organized and visually appealing portfolio can leave an impression on visitors and entice them to learn more about the designer's services.
2. Building Credibility and Trust
A Professional Image
A well-designed website presents the interior designer as a respectable and credible business. It demonstrates a dedication to presenting their work and services in the best light possible. When a prospective customer sees a well-maintained website, they are more inclined to trust the designer's abilities and proceed with the client-designer relationship.
Client Testimonials and Reviews
Testimonials and reviews from delighted customers are effective instruments for establishing trust and confidence. Interior designers can use their website to display good feedback from former clients, showcasing their ability to generate excellent results. Positive feedback can influence potential clients to choose one designer over another, making the website an invaluable marketing tool. https://kickassdental.com.au/dentist-in-croydon-park/
3. Expanding the Reach
Reaching a Global Audience
Because the internet has broken down geographical constraints, a website allows interior designers to reach beyond their local market. Designers can attract clients from different towns, states, and even nations by presenting their work online. This international exposure creates new prospects for growth and achievement.
SEO and Online Visibility
Having a well-optimized website for search engines can dramatically boost online presence. Interior designers can rank higher in search engine results by using SEO (Search Engine Optimization) best practices, making it simpler for potential clients to locate them. SEO traffic can be an excellent source of leads and questions.
4. Communication and Accessibility
Contact Information and Inquiries
A website acts as a central center for all contact information, making it simple for potential customers to reach you. Designers can stimulate enquiries and dialogue from interested parties by offering clear contact details such as email addresses, phone numbers, and a contact form.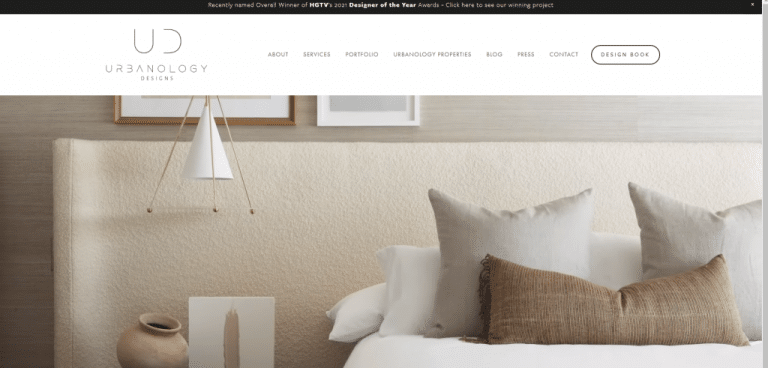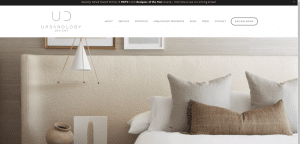 FAQs and Information Sharing
Both designers and clients can benefit from a frequently asked questions (FAQ) area on the website. Designers may save time and streamline communication by answering frequent questions about their services, processes, and pricing. Clients, on the other hand, may quickly and readily find answers to their questions, increasing their likelihood of engaging with the designer.
5. Showcasing Expertise and Blogging
Becoming a Thought Leader
A blog section on an interior designer's website may be a valuable tool for establishing oneself as industry thought leaders. Designers can establish their experience and authority by writing informative articles about design trends, suggestions, and industry news on a regular basis. This can increase website traffic and create a loyal following of potential customers.
Improved Engagement and Sharing
A blog can also increase website user engagement. Visitors who find the information useful are more inclined to share it on social media or by word of mouth, enhancing the visibility and potential reach of the website. Engaging content can also keep people returning for more, boosting the likelihood of converting them into customers.
Conclusion
In conclusion, in today's digital landscape, interior designers must have a website. It gives them a platform to present their portfolio, develop credibility and trust, broaden their reach, efficiently connect with new clients, and promote themselves as industry thought leaders. Interior designers can take their business to new heights and remain competitive in the modern market with a well-designed and optimized website. So, if you're an interior designer aiming to succeed in the digital era, it's important to build a website that displays your own style and skills.