How to Create a Child Care Website: A Comprehensive Guide
Introduction
How do I create a child care website? In today's digital world, a good internet presence is critical for many types of organisations, including child care centres. A well-designed and informative website can assist you in attracting potential clients, promoting your services, and establishing credibility. If you're wondering how to make a child care website, this tutorial will take you step by step through the process.
1. Planning Your Child Care Website
It's critical to start with a good plan before going into the technical components of website creation. Take a look at the following:
1.1 Define Your Target Audience
Determine the demographic you wish to serve with your child care services. This could include parents with newborns, toddlers, preschoolers, or a mix of ages. Understanding your target demographic will allow you to adjust the content and style of your website to match their needs.
1.2 Establish Your Website Goals
Determine the main goals of your website. Do you wish to create leads, provide programme information, or allow parents to enrol their children online? Your website's design and functionality will be guided by clearly defined goals.
1.3 Research Competitors
Examine the websites of different child care centres in your neighbourhood. Take notice of their design aspects, navigation, and content, as well as their strengths and faults. This research will assist you in identifying possibilities to differentiate your website and improve user experience.
2. Designing Your Child Care Website
2.1 Choose an Engaging Design
Choose a visually appealing design that matches the concept of child care and is appealing to your target audience. Use soothing colours, fun typography, and artwork that conveys warmth and compassion. Consider hiring a professional web designer or using website builders with child care templates, such as Wix or WordPress.
2.2 Develop a Clear Site Structure
Organise the pages of your website in a logical and intuitive manner. Make a menu bar with parts such as "Home," "About Us," "Programmes," "Enrolment," "Contact," and any other pertinent areas. This will make it easier for users to explore your website and find the information they require.
2.3 Include Engaging Content
Create interesting and informative content for each of your website's pages. Highlight your child care center's unique features, such as its curriculum, qualified personnel, safety procedures, and testimonials from delighted parents. To connect with your audience, use a friendly and conversational tone.
3. Developing Your Child Care Website
3.1 Choose a Domain Name
Choose a domain name that is short, memorable, and related to your child care centre. It should ideally incorporate the name of your centre or a related term. Use a reliable domain registrar to register your domain name.
3.2 Select a Reliable Web Hosting Provider
Find a web hosting company that provides dependable uptime, ample storage, and responsive customer service. Compare various hosting packages to discover one that meets the demands and budget of your website.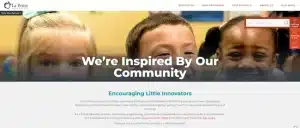 3.3 Build Your Website
There are various options for creating your child care website:
Use a website builder: Website builders such as Wix, WordPress, and Squarespace offer user-friendly interfaces and pre-designed themes. You can personalise these themes to create your own website. https://www.dynamicwebdesign.com.au/our_work/building-blocks-family-day-care-logo-design/
Hire a web developer: If you have unique design needs or require custom functionality, a professional web developer can create a personalised website that meets your needs and standards. Look for experienced developers with a track record of success in the child care or education industries.
3.4 Optimize for Search Engines
Strategies for increasing the visibility of your website in search engine results. Conduct keyword research for child care services and naturally include them into your website's content, meta tags, and headlines. Create distinct page titles and meta descriptions for each page.
3.5 Ensure Mobile Responsiveness
With the growing popularity of mobile devices, it is critical that your child care website is mobile-friendly. Optimise the style and layout of your website to accommodate varied screen sizes, giving a consistent user experience across devices.
4. Enhancing User Experience
4.1 Easy Navigation
Make sure your website's navigation is simple and easy to use. Maintain a consistent menu structure across the site, and include a conspicuous "Home" link on every page. Provide quick access to key parts such as programmes, enrolment forms, and contact information.
4.2 Enquiry and Enrollment Forms
Include online forms for parents to enquire about your child care services or enrol their children. Keep the forms basic and easy to use by reducing the number of essential fields and offering clear instructions.
4.3 Testimonials and Reviews
Showcase testimonials and reviews from happy parents on your website. Potential clients can get trust and confidence from this social proof. Enquire about feedback from current parents and obtain permission to utilise their testimonials on your website.
5. Regularly Updating Your Website
5.1 Fresh and Relevant Content
Keep your website up to date by providing new and relevant information on a regular basis. This might include blog postings on child care suggestions, instructional pieces, or activity updates from your centre. Engaging content not only delivers value to visitors but also boosts the search engine rankings of your website.
5.2 News and Events Section
Include a section on your website dedicated to highlighting news and future activities at your child care centre. This keeps parents informed and engaged while also highlighting the lively and active community you provide. https://diversewebsitedesign.com.au/child-care-website-design/
Conclusion
A child care website necessitates careful preparation, an appealing design, and relevant content. You may create an engaging online presence for your child care centre by knowing your target audience, using user-friendly tools or employing pros, and optimising your website for search engines. Providing a seamless user experience and regularly updating your website with new content can help attract and retain parents looking for quality child care services. Use the internet to highlight your center's unique offers and connect with families in need of your services.