The Importance of a Professional Cleaning Business Website
In today's digital world, having a strong online presence is critical for any business's success. This is also true for cleaning companies. A well-designed and user-friendly website acts as a virtual shop for potential consumers, allowing them to learn more about your services, make enquiries, and even arrange appointments. Follow this detailed guide to developing a cleaning business website if you want to establish a strong online presence for your cleaning service. How do I create a cleaning business website?
1. Define Your Goals and Target Audience
Before delving into the technical components of website development, it's critical to outline your goals and determine your target audience. Consider your goals for your website: do you want to generate leads, display your services, or both? Understanding your target audience will allow you to adjust the style, content, and functionality of your website to fit their needs and expectations.
2. Choose a Domain Name and Hosting Provider
The first step in developing a website is to choose a domain name, which is a unique online address that symbolises your company. Choose a memorable, easy-to-spell domain name that is relevant to your cleaning business. Once you've decided on a domain name, register it with a reliable domain registrar.
The next step is to select a hosting provider. Hosting is the service that allows your website to be accessed via the internet. Look for a hosting company that provides consistent uptime, fast loading speeds, and outstanding customer service.
3. Select a Content Management System (CMS)
A content management system (CMS) enables you to create and administer your website without the need for significant technical skills. WordPress, Wix, and Squarespace are just a few of the popular CMS solutions. WordPress is a popular content management system (CMS) noted for its flexibility and huge plugin ecosystem. Before making a decision, compare the features, simplicity of use, and scalability of each CMS.
4. Choose a Website Template or Theme
After you've decided on a CMS, you'll need to choose a website template or theme. Templates give the foundation for your website's structure and appearance, which you can then customise to fit your brand. Look for a template that complements the aesthetics of your cleaning company while still providing the required functionality, such as simple navigation, contact forms, and service demonstrations.
5. Customize Your Website's Design
Customising the appearance of your website is an important step in developing a professional and visually attractive online presence. Pay close attention to the colour palette, font, and artwork to ensure they represent the branding of your cleaning company. To demonstrate the quality of your services, use high-quality photographs of your team, equipment, and completed projects.
a) Logo and Branding
Create a professional logo that symbolises your cleaning company and prominently display it on your website. Your logo and branding elements should be consistent across your website, assisting in the development of a strong and memorable brand identity.
b) Navigation and User Experience
Make a user-friendly navigation menu that helps visitors to quickly discover the information they need. Make sure your website is adaptable, which means it adapts to different screen sizes and devices effortlessly. Optimise the loading speed of your website to create a seamless viewing experience.
6. Develop Engaging and Informative Content
The importance of content in attracting and engaging visitors to your cleaning service website cannot be overstated. Create useful and appealing material that highlights your skills, services, and the advantages of doing business with you. To improve search engine exposure, use a clear and concise writing style that incorporates essential keywords.
a) Service Descriptions
Make distinct pages or sections for each of your cleaning services on your website. Give full explanations of each service, including the exact activities involved, any specialised equipment or procedures employed, and the client advantages. Break up the text with bullet points or subheadings to make it easier to skim.
b) Testimonials and Reviews
Include a section on your website dedicated to displaying client testimonials and reviews. Positive feedback and testimonials from real clients can help your cleaning company gain trust and reputation. For increased impact, consider using before-and-after images or video testimonials.
c) About Us
Tell the tale of your organisation and share information about your employees and their experience. Share your cleaning company's goal, values, and any qualifications or accreditations that set it apart from competitors. Personal touches, such as employee profiles and images, can help potential customers connect with you.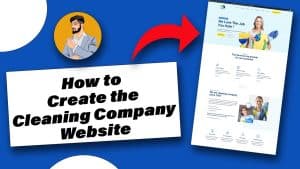 7. Incorporate Contact and Inquiry Forms
Make it simple for people to reach you by including contact forms or enquiry forms on your website. Make them visible on your homepage and contact page. Gather necessary information such as a name, email address, phone number, and a message field. Respond to enquiries as soon as possible to exhibit your professionalism and dedication to customer service. https://diversewebsitedesign.com.au/cleaning-company-website-design/
8. Optimize Your Website for Search Engines
Search engine optimisation (SEO) is critical for increasing the visibility of your website in search engine results. Conduct keyword research to uncover important keywords for your cleaning business and naturally weave them into the content of your website. Optimise your meta tags, headers, and picture alt tags to deliver vital information about your website to search engines.
a) Local SEO
Because cleaning companies often cater to local customers, it is critical to optimise your website for local search. On every page of your website, include your company's name, address, and phone number (NAP). To enhance your chances of appearing in local search results, register your business with Google My Business and other local directories.
b) Mobile Optimization
Make sure your website is mobile-friendly, as an increasing number of people access the internet via smartphones and tablets. Use responsive design approaches to make your website adjust to different screen sizes seamlessly. Mobile-friendliness of your website can be tested using tools such as Google's Mobile-Friendly Test.
9. Implement Analytics and Tracking
Implement website analytics and tracking tools to assess the performance of your cleaning business website and make data-driven decisions. Google Analytics is a popular option for gathering data on website traffic, user behaviour, and conversion rates. Use this information to discover areas for improvement and to assess the efficacy of your marketing activities. How do I create a cleaning business website?
10. Regularly Update and Maintain Your Website
Developing a website for a cleaning company is not a one-time activity. Update your website on a regular basis with new information, such as blog entries, cleaning advice, or special promotions. Check that all links are functional, and update any obsolete information or price. Maintaining and updating your website on a regular basis will maintain it relevant, safe, and optimised for the optimum user experience.
Conclusion
A well-designed and informative website is a great tool for attracting and converting consumers for your cleaning service in today's digital world. You can develop a professional and interesting website that promotes your services, builds trust, and drives business growth by following the steps provided in this tutorial. Remember to clarify your goals, select the appropriate domain and hosting, choose a user-friendly CMS, customise the design, develop compelling content, optimise for search engines, and maintain your website on a regular basis. Your cleaning company will be well-positioned to prosper in a competitive market if it has a strong internet presence. https://www.dynamicwebdesign.com.au/our-services/we-build-websites-for-you/