How to Successfully Market Yourself as a Caterer
Introduction
In today's extremely competitive catering sector, caterers must properly promote themselves in order to acquire new clients and stand out from the competition. Whether you're a seasoned caterer or just starting out, having a great marketing strategy may make or break your business. This post will give you important insights and effective recommendations on how to market yourself as a caterer and increase your market presence.
1. Define Your Target Market
Before you begin marketing efforts, you must first determine your target market. Take into account the types of events you specialise in as well as the demographics of your potential clients. Are you primarily interested in weddings, corporate events, or private parties? Understanding your target market will allow you to personalise your marketing messaging and efficiently reach the proper demographic.
2. Build an Engaging Website
In today's digital age, any business, including caterers, must have a professional and user-friendly website. Because your website will be potential clients' initial point of contact, make sure it showcases your brand, offerings, and expertise. To generate trust, use high-quality images of your cuisine, create an easy-to-navigate menu, and feature client testimonials. Improve your online presence by optimising your website for search engines.
3. Leverage Social Media
Social media channels are fantastic for connecting with your target audience and showcasing your culinary expertise. Create profiles on social media platforms like as Facebook, Instagram, and LinkedIn, and upload compelling content such as images of your meals, behind-the-scenes peeks, and client testimonials on a frequent basis. To increase your reach, interact with your followers, answer to comments, and utilise relevant hashtags. To reach a larger audience and market your business, consider running paid adverts.
4. Develop a Strong Brand Identity
A strong brand identity distinguishes you from your competition and assists potential clients in recognising and remembering your catering company. Define and incorporate your unique selling proposition (USP) into your brand messaging. Create a professional logo, a colour palette that is consistent, and a visual identity that is consistent throughout all of your marketing materials. Your target audience will remember you if you have a strong and consistent brand identity.
5. Network and Collaborate
Catering firms can benefit greatly from networking. To interact with possible clients and create relationships with other business professionals, attend industry events, join professional associations, and engage in local community meetings. Collaboration with event planners, venues, and other vendors can also result in beneficial referrals and joint marketing opportunities. Develop ties within your sector to broaden your reach and boost the likelihood of being suggested to potential clients.
6. Showcase Your Expertise
By sharing your knowledge and expertise, you can establish yourself as an authority in the catering sector. Create interesting blog articles for your website, guest write on industry blogs, or contribute to local periodicals. Offer cooking lessons or workshops to demonstrate your abilities and gain credibility. Potential clients are more inclined to trust and choose your services if you portray yourself as a competent authority.
7. Offer Unique and Customized Experiences
https://sugarwhipped.com.au/cake-delivery-sydney/ Differentiate yourself from the competition by providing your clients with unique and customised experiences. Create trademark meals or themed menus that showcase your ingenuity and style. Consider dietary limitations and provide specialised solutions for clients with particular requirements. Giving your clients personalised attention and going above and beyond to make each event unique will create a lasting impression, leading to word-of-mouth referrals and repeat business.
8. Collect and Utilize Client Testimonials
Positive feedback and testimonials are effective marketing strategies. Request feedback from your clients after each event and ask if they would be willing to provide a testimonial. Collect and display these testimonials on your website, social media profiles, and marketing materials. Testimonials lend credibility to your company and indicate the happiness of prior customers. When potential consumers receive positive feedback from delighted customers, they are more likely to believe the opinions of others and choose your catering services.
9. Utilize Online Reviews and Ratings
In addition to client testimonials, online reviews and ratings have a big impact on the decisions of new clients. Encourage satisfied customers to submit evaluations on popular review sites like Google, Yelp, and TripAdvisor. Regularly monitor these platforms and reply to both favourable and negative feedback. Displaying a high rating and favourable reviews will strengthen your reputation and attract new customers.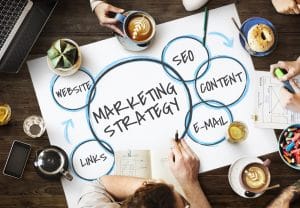 10. Offer Special Promotions and Incentives
Everyone appreciates a good deal or an incentive, so consider running special specials to attract new customers. This could be a reduced package for a specific number of visitors, a free add-on service, or a referral programme that rewards clients who suggest new business to you. To generate excitement and urge potential clients to take advantage of the limited-time chances, promote these deals on your website, social media platforms, and email newsletters.
11. Participate in Food and Trade Shows
Food and trade shows are great places to show off your culinary skills, network with industry leaders, and meet potential clients. Participate in local and regional food and trade exhibitions by setting up a stand, offering samples of your cuisine, and distributing marketing materials. Prepare business cards and brochures to make an impact on attendees. Engage guests, answer their queries, and collect contact information for future contact.
12. Stay Active in Local Communities
Participating in your community is not only a chance to give back, but it is also an efficient marketing technique. Sponsor local events, volunteer for charity auctions, or take part in community festivals. This involvement raises brand awareness, fosters relationships with future clients, and establishes you as a trustworthy and dependable caterer in the neighbourhood. How do I market myself as a caterer?
13. Stay Updated with Industry Trends
The catering sector is always changing, with new trends and ideas developing on a regular basis. Keep up with the newest industry trends, such as popular food selections, presentation methods, and dietary preferences. Incorporate these trends into your menus and marketing materials to demonstrate that your company is up to date and responsive to changing consumer tastes. Being abreast of industry trends also allows you to provide your clients with fresh and intriguing options.
14. Monitor and Analyze Your Marketing Efforts
Monitoring and analysing your efforts is critical to ensuring the effectiveness of your marketing tactics. Track website traffic, engagement, and conversions with website analytics tools. Keep track of the success of your social media postings and adverts. Keep track of the sources of your leads and enquiries in order to determine the most effective marketing channels. To maximise your return on investment, analyse your marketing operations on a regular basis and make adjustments depending on the data.
Conclusion
Marketing oneself as a caterer necessitates a well-planned strategy and persistent work. You can successfully promote yourself as a caterer and attract a constant stream of clients by defining your target market, developing a strong internet presence, showing your expertise, and giving great experiences. To stay ahead in this competitive business, remember to be adaptive, assess your marketing efforts, and always adjust your methods. You may enhance your catering business and achieve long-term success with the correct marketing strategy. https://diversewebsitedesign.com.au/