Introduction
In today's digital world, businesses must have an interactive website in order to communicate with their clients and differentiate themselves from the competition. This is also true for pet grooming services. A pet grooming website with interactive features not only improves the user experience but also helps to establish a loyal customer base. In this post, we will look at the importance of interactive elements for your pet grooming website and how to use them effectively.
The Benefits of Interactive Features
Interactive features on a pet grooming website offer several benefits to both the company and its customers. Let's look at some of the main advantages:
1. Enhanced User Experience
Visitors to your pet grooming website anticipate a smooth and entertaining experience. Sliders, image galleries, and videos, for example, can fascinate users, keeping them engaged and motivating them to explore your website more. You can make a great impression and boost the possibility of turning visitors into customers by delivering an interactive and visually appealing experience.
2. Showcasing Services
One of the key purposes of a pet grooming website is to highlight the variety of services available. Interactive elements can be extremely useful in efficiently displaying these services. For example, you could provide a virtual tour of your grooming facility, which would allow potential customers to examine your premises from the comfort of their own homes. Additionally, interactive before-and-after photographs of groomed pets can demonstrate the quality of your work and assist clients in visualising the transformation of their own pets.
3. Online Appointment Booking
Any pet grooming business must streamline the appointment booking procedure. You provide an easy and hassle-free option for clients to arrange appointments by integrating an online booking system. Customers can select their prefered dates and time slots using interactive calendar widgets, which indicate real-time availability. This tool not only saves time for both pet owners and your employees, but it also decreases the possibility of misunderstandings or missed appointments.
4. Social Media Integration
Social media is an important part of today's marketing landscape, and including it into your pet grooming website can help you extend your online presence. Interactive elements such as social media sharing buttons and live feeds displaying your most recent postings can entice users to interact and engage with your company across many platforms. This connection has the potential to promote brand awareness, consumer engagement, and even prospective referrals.
5. Interactive FAQs and Live Chat
Visitors frequently have questions or concerns about your products, pricing, or availability. Customers will be less likely to contact you if you have interactive frequently asked questions (FAQs) sections that provide rapid answers to typical queries. Including a live chat function also allows visitors to engage in real-time dialogues with your team, giving personalised support and developing trust. Prompt and informative responses via live chat can boost client satisfaction and increase the likelihood of conversion.
Implementing Interactive Features
Now that we've established the advantages of interactive elements, let's look at how to efficiently incorporate them on your pet grooming website.
1. User-friendly Navigation
Make sure your website has clear and simple navigation options to help users quickly access the information they need. Create subheadings with h3> tags to divide the text into easily digestible parts. Drop-down menus or a sticky navigation bar can help consumers easily navigate between different pages or areas of your website. https://diversewebsitedesign.com.au/pet-grooming-website-design/
2. Engaging Visual Content
To engage your audience, employ visually engaging photos and videos. Create explanatory titles for each segment of visual content using h3> tags, such as "Before and After Transformations" or "Facility Tour." This allows viewers to quickly understand the objective of the information and encourages them to explore more.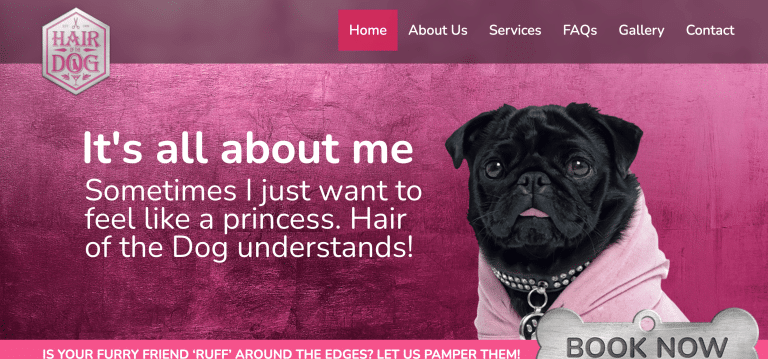 3. Interactive Booking System
Integrate an interactive and user-friendly online booking system into your website. Label sections with h3> tags, such as "Book an Appointment" or "Schedule a Grooming Session." Make sure the booking procedure is simple, with clear instructions and an easy-to-use interface. Include interactive calendar widgets that allow users to select their prefered dates and time slots, as well as real-time availability updates, to avoid conflicts or double-bookings.
4. Social Media Integration
Include social media sharing icons on your website to make it easy for users to share your material on sites such as Facebook, Instagram, and Twitter. Label sections with h3> tags, such as "Connect with Us" or "Follow Our Updates." Display live feeds from your social network accounts to highlight your most recent postings and encourage users to interact with your content directly from your website. This connection not only increases your internet visibility, but it also stimulates user-generated content and testimonials.
5. Interactive FAQs and Live Chat
Create an interactive Frequently Asked Questions (FAQs) section where users can get answers to frequently asked questions. To mark distinct categories or themes within the FAQs, use h3> tags. Include a search option to assist consumers find specific information fast. In addition, include a live chat option that allows visitors to converse with your team in real time. To identify the chat function and provide explicit instructions on how to access it, use h3> tags. This interactive support solution provides timely and personalised assistance, resulting in higher customer satisfaction.
Conclusion
Incorporating interactive features onto your pet grooming website can improve user experience, efficiently highlight your services, speed the appointment booking process, and increase customer interaction. You may design clear and useful headings that guide visitors around your website by carefully using h1>, h2>, and h3> title tags. Keep in mind that user-friendly navigation, compelling visual information, interactive booking systems, social media integration, and interactive FAQs and live chat should all be prioritised. You can attract more clients and establish long-term customer connections by adopting these elements in your pet grooming business. https://www.dynamicwebdesign.com.au/our-services/pet-boarding-website-design/