What Should Be on a Travel Agent Website?
1. Clear and Engaging Homepage
Introduction
What should be on a travel agent website? The homepage of a travel agency website is the first thing visitors see when they arrive. For travel agent website design read on. To catch the attention of potential customers, this page must be clear, engaging, and visually appealing. The following elements should be included on the homepage:
High-Quality Images and Videos
Including high-quality photographs and videos of diverse trip spots helps arouse visitors' wanderlust. Potential consumers might be inspired and enticed to learn more about the travel agency's products by using visual content.
Search Functionality
Users may simply search for specific places, accommodations, or activities using the search functionality feature. This makes it easier for visitors to rapidly access important information.
Featured Destinations
Featured destinations on the homepage might catch visitors' attention and inspire them to plan their next vacation. These places can be chosen based on popular tourist attractions, trending areas, or one-of-a-kind experiences.
2. User-Friendly Navigation
Main Menu
On a travel agent website, a well-organized main menu is vital for easy navigation. The main menu should include distinct sections such as "Destinations," "Services," "Special Offers," "About Us," and "Contact." This makes it easier for visitors to find the information they need.
Drop-Down Menus
Drop-down menus under each main menu category can help to improve the website's navigation. Subcategories such as "Asia," "Europe," and "Africa" can, for example, be included under the "Destinations" category. This allows visitors to simply navigate through regions or countries of interest.
3. Detailed Destination Information
Destination Pages
Each destination should have its own page with detailed information about the location. Popular sites, local customs and traditions, climate, transit alternatives, recommended hotels, and travel guides are all examples of this information. Including breathtaking photographs of the place can also assist potential travellers form an emotional connection.
Interactive Maps
Visitors can visualise the location and explore points of interest within a destination using interactive maps. This feature can create an immersive experience while also assisting travellers in better planning their schedule.
4. Online Booking and Reservation System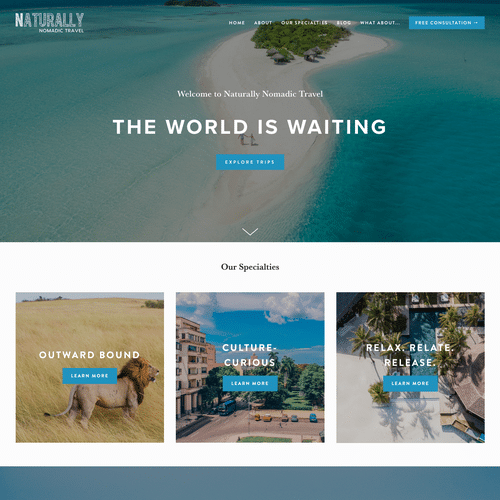 Booking Interface
A user-friendly and secure online booking and reservation system should be available on a travel agency website. This enables users to browse for flights, hotels, car rentals, and other services and book them directly on the website. Integration with well-known payment gateways ensures a quick and secure transaction process.
Confirmation and Itinerary
Customers should receive a confirmation email with a comprehensive itinerary of their trip after placing a booking. This provides a sense of confidence and guarantees that travellers have all of the information they need for their future voyage.
5. Customer Reviews and Testimonials
Testimonial Section
Including a section for customer reviews and testimonials might help to increase trust and trustworthiness. Positive feedback from delighted clients might influence new travellers and persuade them to use the services of the travel agency.
Social Proof
Integrating social media feeds or displaying the amount of followers, likes, and shares can help to boost the reputation of the travel business and build social proof. This shows that the travel business has a strong web presence as well as a satisfied customer base. https://www.dynamicwebdesign.com.au/our-services/web-design-agency-in-australia/
6. Special Offers and Promotions
Special Offers Page
A dedicated website for special deals and promotions is an excellent method to attract new customers. This page may include discounted trip packages, limited-time offers, seasonal specials, or exclusive bonuses for returning clients. To encourage visitors to take advantage of these incentives, incorporate clear and engaging call-to-action buttons.
Newsletter Subscription
Including a newsletter subscription option lets visitors to stay up to speed on the travel agency's latest travel bargains, news, and tips. This not only helps to establish a loyal client base, but it also allows you to engage with new customers via email marketing efforts.
7. About Us and Contact Information
About Us Page
The "About Us" page allows you to highlight the travel agency's history, values, mission, and skills. It enables visitors to discover more about the agency's history and what distinguishes them from competitors. Including team profiles or personal tales about the founders might give the website a more human touch.
Contact Information
For visitors to contact the travel agency, clear and easily accessible contact information is important. A contact form, phone number, email address, and social media connections should all be included on the contact page. Incorporating a live chat function can also provide immediate support to potential customers, improving their overall experience.
Conclusion
Finally, a well-designed travel agent website should include essential elements such as a clear and engaging homepage, user-friendly navigation, detailed destination information, an online booking and reservation system, customer reviews and testimonials, special offers and promotions, and detailed "About Us" and contact information. By adding these aspects, a travel firm may present potential consumers with a seamless and immersive online experience, ultimately leading to increased conversions and successful holiday planning.