Best Website Themes for Construction Company: Enhance Your Online Presence
Introduction
Best website themes for construction company. In today's digital world, building a good web presence is critical for construction companies. A visually appealing and functional website can be an effective tool for showcasing projects, attracting potential clients, and establishing trust. Choosing the proper website theme is critical to achieving these objectives. In this post, we will look at some of the best website themes for construction companies. https://citibuildconstruction.com.au/housing-project-management/
1. Construction Pro
Construction Pro is a very adaptable website theme designed specifically for construction enterprises. This theme provides everything you need to create a visually appealing and user-friendly website, thanks to its professional design and robust functionality. It includes layouts for displaying project portfolios, services, team members, and testimonials. Construction Pro also works perfectly with popular plugins, making it simple to add features like contact forms and project galleries.
2. Builder
Builder is a responsive and stylish website theme created for construction enterprises and architectural firms. Its simple and beautiful design allows you to successfully highlight your projects and services. The theme includes a drag-and-drop page builder, various homepage layouts, and configurable headers, making it simple to create distinctive and engaging web pages. To keep your audience informed and interested, Builder provides features such as project galleries, client testimonials, and an integrated blog.
3. Renovate
Renovate is a powerful website theme designed for building companies working on rehabilitation and remodelling projects. This theme has a number of pre-designed layouts for displaying before-and-after photographs, project details, and client testimonials. Renovate also provides project calculators, appointment scheduling systems, and WooCommerce connection for online construction material or goods sales. This theme, with its emphasis on renovation projects, offers a specialised solution for firms in this industry.
4. StructurePress
StructurePress is a feature-rich website theme built primarily for construction and architecture firms. It provides a number of homepage themes, project templates, and portfolio styles to help you exhibit your work in an appealing way. StructurePress also contains cost calculators, project progress gauges, and customisable contact forms, which make it simple to deliver accurate information and gather possible leads. The theme is also optimised for speed and SEO, so your website will rank well in search engine results.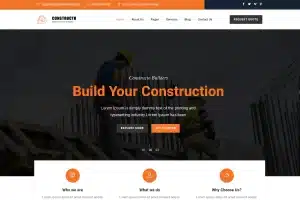 5. Constructo
Constructo is a flexible website theme designed for construction enterprises of all sizes. It provides a variety of configurable templates and layout possibilities, allowing you to design a one-of-a-kind and visually appealing website. Constructo provides versatility and ease of use with its built-in drag-and-drop page builder and vast theme choices panel. The theme also includes features such as project displays, team member profiles, and integration with popular social networking platforms, which will assist you in connecting with your audience and expanding your online presence. For website design for construction company see here.
Conclusion
For construction companies trying to develop a strong online presence, choosing the correct website theme is critical. Construction Pro, Builder, Renovate, StructurePress, and Constructo, among the themes covered in this article, provide a variety of features and capabilities adapted to the specific demands of construction firms. These themes provide the tools to create visually beautiful, user-friendly, and professional websites, whether you specialise in new construction, remodelling, or architectural services. You may improve your online visibility, attract more clients, and remain ahead of the competition in the digital realm of construction by investing in a well-designed website theme.