Watt's Next: Unveiling the Future of Electrician Website Design
The Importance of a Well-Designed Electrician Website
Why Electricians Need a Strong Online Presence
Watt's Next: Unveiling the Future of Electrician Website Design. In this day and age, it is essential for companies in any sector, including the electrical contracting sector, to have a robust presence online. It is crucial for electricians to have a website that is both reputable and easy to navigate in this day and age, when more and more people are turning to the internet to find services and answers. Not only does having a website that is professionally built enable electricians to showcase their skills and offerings, but it also acts as a potent marketing tool that helps them bring in new customers and expand their clientele.
Elements of an Effective Electrician Website
When it comes to the design of a website for an electrician, there are a few essential components that need to be included to guarantee that the website is both successful and user-friendly.
1. Clear and User-Friendly Navigation
When it comes to directing visitors through the website, the navigation menu is an extremely important component. It must to be obvious, simple, and straightforward, and it ought to be posted in a prominent location. Websites pertaining to electricians often contain multiple parts, some of which may include services, customer testimonials, about us, and contact information. Users are able to swiftly and easily access the information they require when using a navigation menu that has been thoughtfully created.
2. Responsive and Mobile-Friendly Design
It is essential for websites catering to electricians to have a responsive design in this day and age due to the proliferation of mobile devices such as smartphones and tablets. A website is considered to be responsive if its layout and content can be automatically adjusted to accommodate varying screen sizes, so guaranteeing that the user experience is consistent across all devices. Because mobile-friendly websites are given an advantage in Google's search rankings, it is even more crucial for electricians to have a website that is responsive to mobile devices.
3. Showcasing Services and Expertise
One of the most important functions that a website serving an electrician should fulfil is to demonstrate the breadth and depth of the company's or individual electrician's professional experience. On the website, there must to be distinct parts that detail the variety of services that are offered, as well as any certificates, licences, or specialisations that may be held. In addition to helping create trust and credibility among potential customers, including testimonials or case studies can be of great benefit.
4. Contact Information and Call-to-Action
It is important for the website of any electrician to prominently show their contact information, which should include both a phone number and email address, in addition to a contact form. Because of this, it is simple for prospective customers to get in touch and ask about the services offered. at addition, the positioning of call-to-action buttons or forms at an advantageous location on a website can help persuade visitors to do the required action, such as making an appointment or getting a price quote.
5. Engaging Visuals and Multimedia
Providing the user with access to high-quality photographs and videos that are relevant to the electrician's line of work has the potential to dramatically improve their entire experience. Visual information allows prospective customers to have a better idea of the quality of the work, which in turn helps develop trust. To prevent poor page speeds, which can severely effect both the user experience and search engine rankings, it is essential to optimise images and videos for faster loading times. For Evaporative Air Conditioner Repairs Craigmore see here.
6. Testimonials and Reviews
Putting up reviews and testimonials from previous customers who were pleased with the electrician's work is a great way to demonstrate the electrician's reputation and ability. Building trust and confidence among new customers through the use of positive comments and suggestions from former customers is a useful strategy. The integration of review platforms or the display of client testimonials directly on the website can have a significant impact on the decisions that website users ultimately make.
The Future of Electrician Website Design
Artificial Intelligence and Chatbot Integration
The incorporation of artificial intelligence (AI) and chatbot features is one of the fascinating possibilities that lie in wait for the future of website design for electricians. Technology is advancing at a rapid pace, so the possibilities are only going to increase. Chatbots driven by AI have the potential to improve the user experience by delivering quick support and offering responses to frequently asked issues. They are also able to help expedite communication and lead creation by recording client enquiries and directing them to the right channels, which they can do to help streamline the process. Chatbots have the potential to become important virtual assistants for electricians, especially as AI becomes increasingly sophisticated. Chatbots might handle simple consumer contacts, freeing up electricians' time to focus on more difficult jobs.
Personalization and User-Centric Experiences
Developing experiences that are unique to each individual user is where website design is headed in the near future. Websites catering to electricians can make use of data analytics and tracking user behaviour to provide visitors with content and suggestions that are specifically relevant to them. Websites may give targeted information, personalised offers, and even predictive maintenance reminders by recognising the preferences and wants of its visitors and catering to their needs and preferences. Not only does this level of customization boost user pleasure, but it also fortifies relationships with customers and raises the possibility that they will return for additional purchases.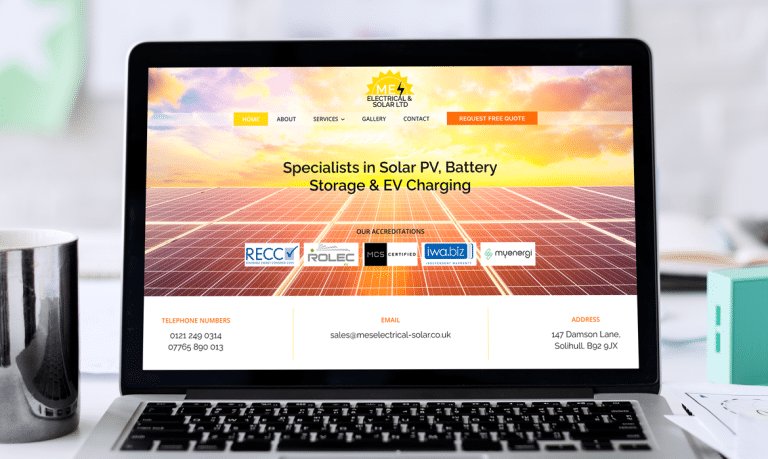 Integration of Internet of Things (IoT) and Smart Home Technology
Because of the proliferation of Internet of Things (IoT) and smart home technology, the websites of electricians are in a prime position to play an important part in educating customers about the advantages and opportunities presented by these innovations. Websites can include parts that are devoted to energy-efficient solutions, Internet of Things integration services, and smart home automation technologies. In a field that is developing at a rapid rate, electricians can differentiate themselves from competitors by demonstrating their knowledge in the installation and maintenance of smart home devices.
Augmented Reality (AR) and Virtual Reality (VR) Experiences
The use of Augmented Reality (AR) and Virtual Reality (VR) technology has the potential to radically alter the ways in which electricians present their work to clients and engage with those customers. The websites of future electricians may provide users with immersive augmented reality or virtual reality experiences. This would enable prospective customers to visualise electrical installations, renovations, or repairs before to committing to a project. These technologies can also make remote troubleshooting and guiding possible, which eliminates the requirement for electricians to make personal visits and makes it possible for them to provide remote support in an effective manner.
Enhanced Security and Privacy Measures
The architecture of websites ought to give top priority to bolstered safety and privacy precautions given the ongoing proliferation of cybersecurity problems. The websites of electricians of the future need to have powerful encryption mechanisms, secure data storage, and transparent privacy rules. Exhibiting trust seals and certifications is a great way to ensure visitors that the confidentiality of their personal information will be maintained. In addition, ensuring compliance with data protection requirements, such as the General Data Protection Regulation (GDPR), is going to be absolutely necessary in order to construct confidence and preserve credibility. For diverse electrician websites see here.
Conclusion
There are a lot of fascinating opportunities that lie in wait for electrician website design in the future. Elevating their online presence and maintaining a lead in a competitive digital landscape can be accomplished by electricians who implement user-friendly navigation, responsive design, service showcasing, contact information, engaging visuals, testimonials, and who embrace emerging technologies such as artificial intelligence, chatbots, personalisation, internet of things, augmented reality, and virtual reality. adopting these future trends will not only attract new customers, but it will also establish long-term relationships with existing clients, ultimately moving electricians towards a prosperous future in the digital era. As the industry continues to evolve, adopting these future trends will attract new customers.