Introduction
Overview
A pharmacy website is an important tool for pharmacies to engage with their consumers while also providing a quick and accessible platform for information, services, and products. What should be included in a pharmacy website? To have a good online presence, specific aspects and features that improve user experience and promote the pharmacy's offerings must be included.
1. Clear and User-Friendly Navigation
Menu Structure
A pharmacy website must have an easy-to-use menu structure. Make logical categories for the menu, such as "Home," "About Us," "Services," "Products," "Prescription Refills," and "Contact Us." This guarantees that visitors may quickly locate the information they require.
Search Functionality
Install a search bar to help consumers quickly find certain products or information on your website. This function improves user convenience, particularly for consumers looking for specific prescriptions or health-related content.
2. Comprehensive Information
About Us
Make a "About Us" section that discusses the pharmacy's history, values, and team. Include details about the pharmacy's experience, credentials, and any specialities, such as compounding or speciality drugs.
Services
Emphasise the pharmacy's many services, such as prescription filling, medication synchronisation, immunisations, pharmaceutical therapy management, and home delivery. To assist customers in understanding how the pharmacy can satisfy their needs, clearly clarify each service and its benefits.
Health Information and Resources
Include a section for health-related articles, blog entries, or educational resources. Provide trustworthy information about drug management, common health issues, preventive care, and wellness suggestions. Ensure that the content is updated on a regular basis to reflect the most recent medical knowledge.
3. Online Prescription Refills
Easy Refill Process
Enable an online prescription refill service that allows clients to request refills without physically visiting the pharmacy. Make sure the process is user-friendly and secure, and that clients may receive reminders when their medications are ready for pickup or delivery.
Prescription Transfer
Include instructions and a streamlined method for clients to transfer prescriptions from other pharmacies to yours. Give specific instructions on what information is required and how the transfer will be handled. https://jbqualityairconditioning.com.au/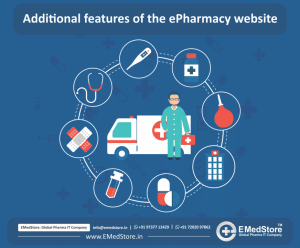 4. Product Catalog
Medication Information
What should be included in a pharmacy website? Keep an up-to-date and comprehensive inventory of the pharmaceuticals available at your pharmacy. Include specific product information such as generic and brand names, indications, doses, side effects, and precautions. Consider including medication photos for simple identification.
Over-the-Counter (OTC) Products
Include a section for OTC products, such as vitamins, supplements, personal care items, and health equipment. Classify them appropriately and provide extensive descriptions and photographs to assist buyers in making educated decisions.
Product Search and Filtering
Implement search and filtering tools in the product catalogue to help clients find specific pharmaceuticals or over-the-counter remedies. Allow consumers to categorise products based on price, brand, or other relevant characteristics to improve their shopping experience.
5. Contact Information and Customer Support
Contact Details
Display the pharmacy's contact information prominently, including the address, phone number, and email address. For consumers who prefer to visit the pharmacy in person, consider including a map or directions.
Customer Support Channels
Allow customers to contact you through several methods, such as a dedicated customer support phone number, email, and live chat. Ensure that all enquiries and issues are immediately and professionally answered.
Frequently Asked Questions (FAQ)
Create a FAQ section to answer frequently asked questions and provide self-help solutions. Include subjects like insurance approval, the prescription transfer process, shipping alternatives, and medication information. Update the FAQ section on a regular basis based on consumer input and developing concerns.
6. Online Appointment Booking
Appointment Scheduling
Provide an online appointment booking tool if the pharmacy provides specialised services such as drug counselling or immunisations. Allow customers to choose a convenient date and time for their appointment and give any essential information.
Reminders and Notifications
Use automatic reminders and notifications to notify customers of impending appointments. This feature ensures that clients do not miss out on critical healthcare treatments and boosts overall patient satisfaction.
7. Mobile Responsiveness
Mobile-Friendly Design
Optimise the pharmacy website for mobile devices to meet the growing number of internet users who use smartphones and tablets. Make sure the website design is responsive, with simple navigation, clear content, and quick loading times on mobile platforms.
Mobile App Integration
Consider creating a dedicated mobile app that works in tandem with the pharmacy website. This app may include additional features such as prescription reminders, medication adherence tracking, and app-only discounts. What should be included in a pharmacy website?

Conclusion
A well-designed pharmacy website is a great resource for engaging customers, giving important information, and providing convenient services. Pharmacies may improve their online presence and provide a seamless user experience by including simple navigation, extensive information, online prescription refills, a product catalogue, contact information, customer service, online appointment booking, and mobile responsiveness. Embracing these components will not only attract and retain customers, but will also add to the pharmacy's overall success in today's digital market. https://diversewebsitedesign.com.au/